Back to Articles
Volume 33, Issue 10
A Happy Congregation
You see the pose that Ava is doing? That pose in yoga is called "happy baby." It is what babies do when they are joyful, happy, and full of life. And, Ava Rae McKinzie-Waldrop was definitely a happy baby on Sunday. And how could she not be? She was surrounded by loving parents, excited grandparents, and a church of people who covenanted to love, support, and cherish her.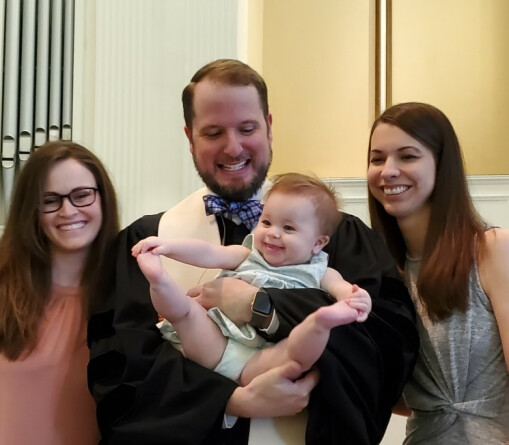 I think Ava is well-suited to the happy baby pose. In fact, that is what her name means. Ava in Hebrew is short for chava, which means "full of life." Chava is also the ancient name for Eve, the first woman among creation. And God definitely knew what God was doing when creating Ava. She definitely brings life to her family as she will also bring jubilant life to Royal Lane Baptist Church. Since Ava's middle name is Rae, which means ewe (as in the sheep), we know that Ava will always hear the voice of the Good Shepherd and follow the way of Jesus. It is my hope that we, as church, follow Ava's lead as she journey's with God on the path of peace.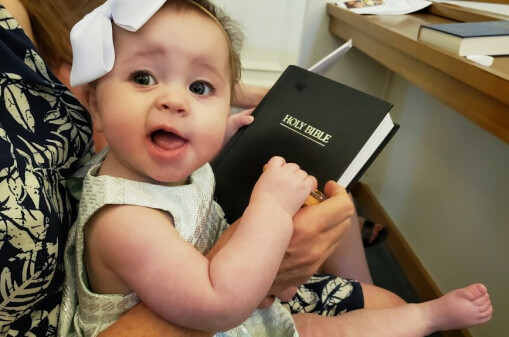 Ava's dedication on Sunday reminded us that God calls us each by name and created us to follow the path that leads to life. And God named each of us beloved and God named each of us chosen. It is our job as a church family to live into those names and be a full of life and a happy congregation. We must live into our names by realizing that all people are welcomed into this family of faith and all people are created in the image of God. I am grateful that Royal Lane is that place, that happy congregation where we can dedicate babies, fellowship with our Muslim friends at Ramadan, celebrate with our youth when they graduate, and grieve with our loved ones at funerals. All of the ways that we are Christ to one another truly makes us a happy congregation.
Pastor Mike