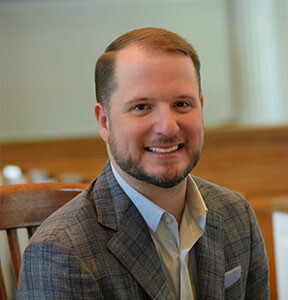 Michael Gregg (he/him/his)
Senior Pastor
Mike Gregg earned a Bachelor of Religion degree from Belmont University, a Masters of Divinity degree from Wake Forest University and a Doctor of Ministry degree from Mercer University. Mike comes to Royal Lane from Northside Drive Baptist Church in Atlanta, Georgia where he served as Associate Pastor.
Mike is a postmodern scholar. He devours books on emerging generations, especially Millennials. Mike's publications reflect his interests in the postmodern church, simplicity, and the future of Christian Education in a changing world. The title of Mike's doctoral thesis was "Becoming Strangers: Discovering the Presence of God by Receiving Hospitality in Communities Outside Northside Drive Baptist Church."
Mike has been married to Amanda since 2003. They have two energetic and articulate daughters, Annaleigh and Beatrice. Mike is an artist with experience in graphic design and marketing, a singer and drummer, an Apple enthusiast, and an avid baseball fan.